Many individuals were interested in non-fungible tokens (NFTs) in 2021 as the name began to circulate in crypto forums and beyond.
Although NFTs had an excellent year in 2021, the public's natural curiosity diminished. Users of cryptocurrency are less excited about this new technology than they were a year ago.
For DEXterlab's July survey, they used Twitter polls to gauge the current level of NFT acceptance. People who have never bought an NFT before, according to the study, are planning to do so in the future. 26.6 percent of those surveyed said they plan to buy an NFT, compared to 31.7 percent of cryptocurrency fans who said they wouldn't.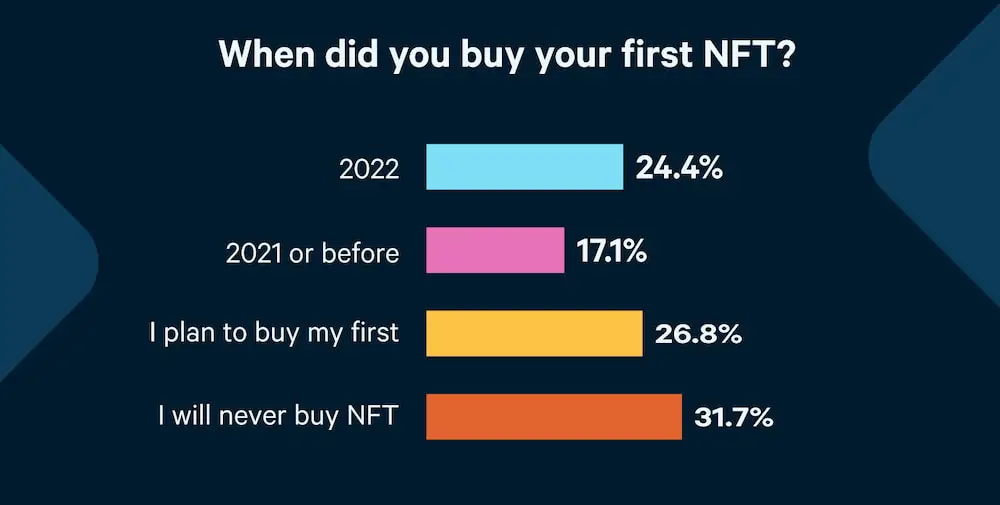 17.1 percent of people purchased their first NFT in 2021 or earlier, according to the findings. While searches for "NFT" were down significantly in 2022, the data shows that more people made their first purchase than in 2021, with 24.4% of respondents saying they bought their first NFT in 2022.
Bear markets have negative impact on NFTs
In 2022, the global economy experienced a dismal year. There was a constant rise in prices, thus the Federal Reserve was forced to institute strict price controls. Due to the current state of affairs, traditional markets are in a state of panic. As stock prices continue to decline, this has a direct impact on the cryptocurrency market, which is directly linked to the stock market.
Individuals typically sell out of their positions during a bear market until the macroeconomy regains its footing. Only 35.2% of those who applied said they purchased NFTs during the bear market. According to the study, 51.6 percent of those who participated had a negative outlook on the future and were not planning to engage in NFTs at this time.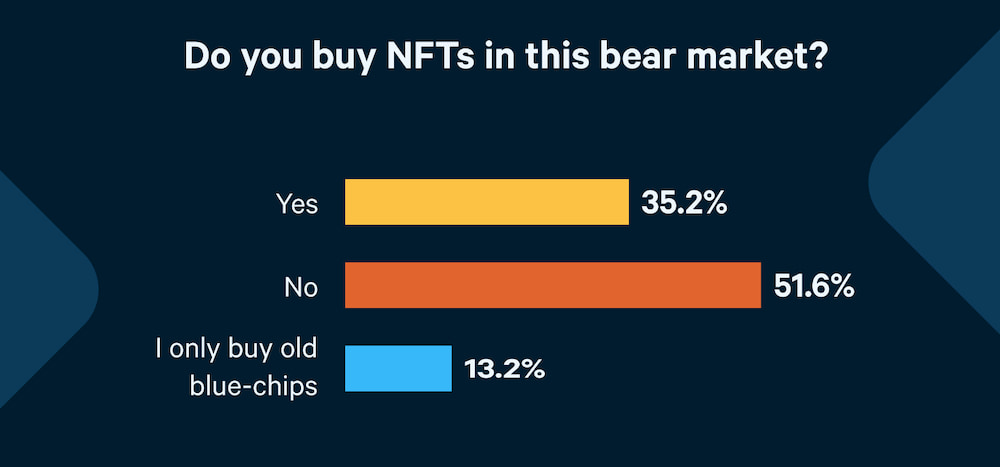 The number of investors in so-called "blue chip" NFTs, which are higher-tier NFTs, is much less. NFTs from well-known collections such as Bored Ape Yacht Club, Cryptopunks, DeGods, and a slew of others are included here. The cost of a blue-chip NFT can range from tens of thousands of dollars to several hundred thousand dollars or more.
Most blue-chip NFTs lost more than half their USD values, yet just 13.2 per cent of participants in the survey felt that investing big amounts of money into blue-chip NFTs is a good idea.
Most users feel safe owning NFTs during bear markets
To find out if people were still buying NFTs despite the bad market, DEXterlab conducted a survey. 46.5 percent of NFT investors say they are confident in their holdings because they believe NFTs are a safe investment. NFTs are considered dangerous by 53.5 percent of individuals who took the survey.
Possibly, non-fungible tokens are now at the same stage of adoption as other cryptocurrencies, and we can expect to see an increase in NFT users in the next several years.
Although the number of persons searching for NFTs declined in 2022, the fact that more people received their first NFTs in 2022 than the previous year supports the idea that adoption will continue to increase. Interestingly, Finbold had previously estimated that over 64% of consumers buy NFTs for financial gain.
Because many investors continue to hold NFTs despite their declining value, it suggests that the NFT bull market isn't dead and will eventually be revived, as some have argued.